Its been a while since I posted one of these, and as such I thought I should bring something rather big for you guys to enjoy. I would like to apologize ahead of time that this map isn't what you'd call "Photogenic" so the screens aren't going to be the best. Anyways, let us begin!
Today's subject:
Great Grundorf!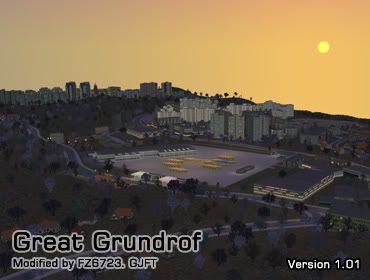 Anyone else notice the typo in the image?
What is 'Great Grundorf'?
Great Grundorf is another map that takes a M&R map and expands upon it. While the Original map, known simply as 'Grundorf' only consisted of one route, while Great Grundorf has added 7 more routes, on top of the original route. The expanded part of the map includes, a Bus Yard, Sea side area and an industrial area, just to name a few.
What makes it special?
There isn't a whole lot that makes Great Grundorf overly special, beyond expanding on a very basic map, though it does retain a lot of the basic parts of the map, allowing majority of users to still play the map at the same framerate as the original Grundorf map which is very acceptable.
Faults in this?
While there is nothing game breaking in this map there are some areas of inconsistencies, for example some roads don't match up well with other roads or intersections, however the car paths do line up, so one won't be seeing cars just disappearing randomly
. Also by default majority of the passengers stand incorrectly at some of the bus stops, either facing away from the bus or facing across from the bus, but this again isn't game breaking.
Routes?
72: Grundorf Bay <=> Nottingham Court
73: Grundorf Bay <=> Bauernhof
73E: Grundorf Bay <=> Bauernhof
74: Sumputuous Estate <=> Bauernhof
75: Sumputuous Estate <=> Sumputuous Estate (Circular)
76: Bauernhof <=> Krankenhaus
77: Krankenhaus <=> Krankenhaus (Circular)
N73: Grundorf Bay <=> Krankenhaus
Custom Stuff, extra downloads?
None, all stock OMSI objects.
However I would recommend the following mods from our very own, Adrian:
Grundorf City Transport D92 Repaints & AI Traffic Pack
Grundorf City Transport NL202
Grundorf City Transport Static Vehicles Pack
Map Download Link
:
Link here
Please note that the following images may contain the above mods already installed as well as some personal alterations, by default the map won't contain the NL202, nor the repaints of both active and static buses.
-
Image
-
Image
-
Image
-
Image
-
Image
-
Image
And as always, Enjoy!