So I came up with an interesting idea, since I'm at a stand still with my own projects, to try something interesting, I present to you: "Do you remember? Series"
Today's subject:
Pilzdorf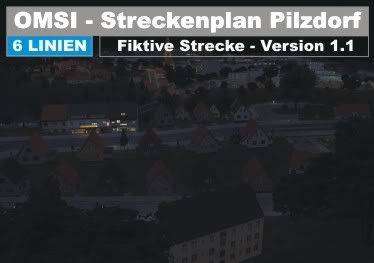 What is 'Pilzdorf'?
Pilzdorf is the first, or at least one of the first custom addon maps for OMSI. Complete with a train station, Central Station/ZOB, Mid Town station, Airport and plenty more. It also has 6 different routes running. By today's standards this map is very basic. Requires no custom objects, but did contain rollblinds and its HOF file as a separate download.
What makes it special?
What makes Pilzdorf special, is that it was made before all the custom map designs were brought in, no Simple streets, or custom objects here. But what is here is well done, you don't get the feeling anything was done just for the sake if it. What has been done makes you feel it is there for a reason and not just to fill in the map. There is also no areas that make you scratch your head and wonder what it is supposed to be. The map is also varied in heights, expect no flat map here. Lastly this was also the first custom map I ever played after picking up OMSI bus.
Faults in this?
Very few, if any. But what will likely stand out to people is places like the City Centre, or Stadtmitte. Which ever but route passes through, and all use the exact same stop, even though one can clearly see other stops available. There is also one route that runs up a winding mountain, ala Bad Kinzau. but this one was done before BK and done quite well, not tight or annoying to drive. Another thing that could stand out is the fact that majority of the routes follow a similar path before finally breaking off, this is due to all 6 routes starting at the ZOB and then going to the Stadtmitte before breaking off into their own directions.
Routes?
There are six routes that run over the course of a day, no special times or days it appears.
Route 1
: ZOB - Oberpilzdorf (11 Min)
Route 2
: ZOB - Industriegebiet Süd (11 Min)
Route 3
: ZOB - Meersbach Bahnhof (12 Min)
Route 4
: ZOB - Fichtensee Strandbad (11 Min)
Route 5
: Felsberg - Flugplatz (11 Min)
Route 6
: Gasthaus Zur Mühle - Meesbach Bahnhof (17 Min) (*
This route appears to have a few extra variations as well, ranging from 11 Min to 17 Min
)
Custom Stuff, extra downloads?
As stated before this map contains no custom media, as it uses all stock OMSI objects. Though it does require one to download its HOF file and Rollblinds separate.
Download link
: N/A, I don't know if this map is still available to download, if anyone does know, please post a link.
EDIT: Here is a link found on YouTube. You use at your own risk:
http://hotfile.com/d...i_maps.rar.html
and some Images for you:
-
Image
-
Image
-
Image
-
Image
-
Image
And lastly a question for all of you, what do you think of this idea? Should I do more like this, and if so what map should I do next?
Edited by Longyear, 01 March 2012 - 12:37 AM.