About This File
BIRMINGHAM
Sutton Coldfield - Route 904
Addon map for OMSI, by Fan79
Birmingham is UK's second largest city. Once famous for heavy industry, Rover cars and Cadburys chocolate. The city today is thriving and has some of the busiest roads in the UK.
The route modelled runs from Birmingham City Centre to Sutton Coldfield, a busy town about 7 miles away.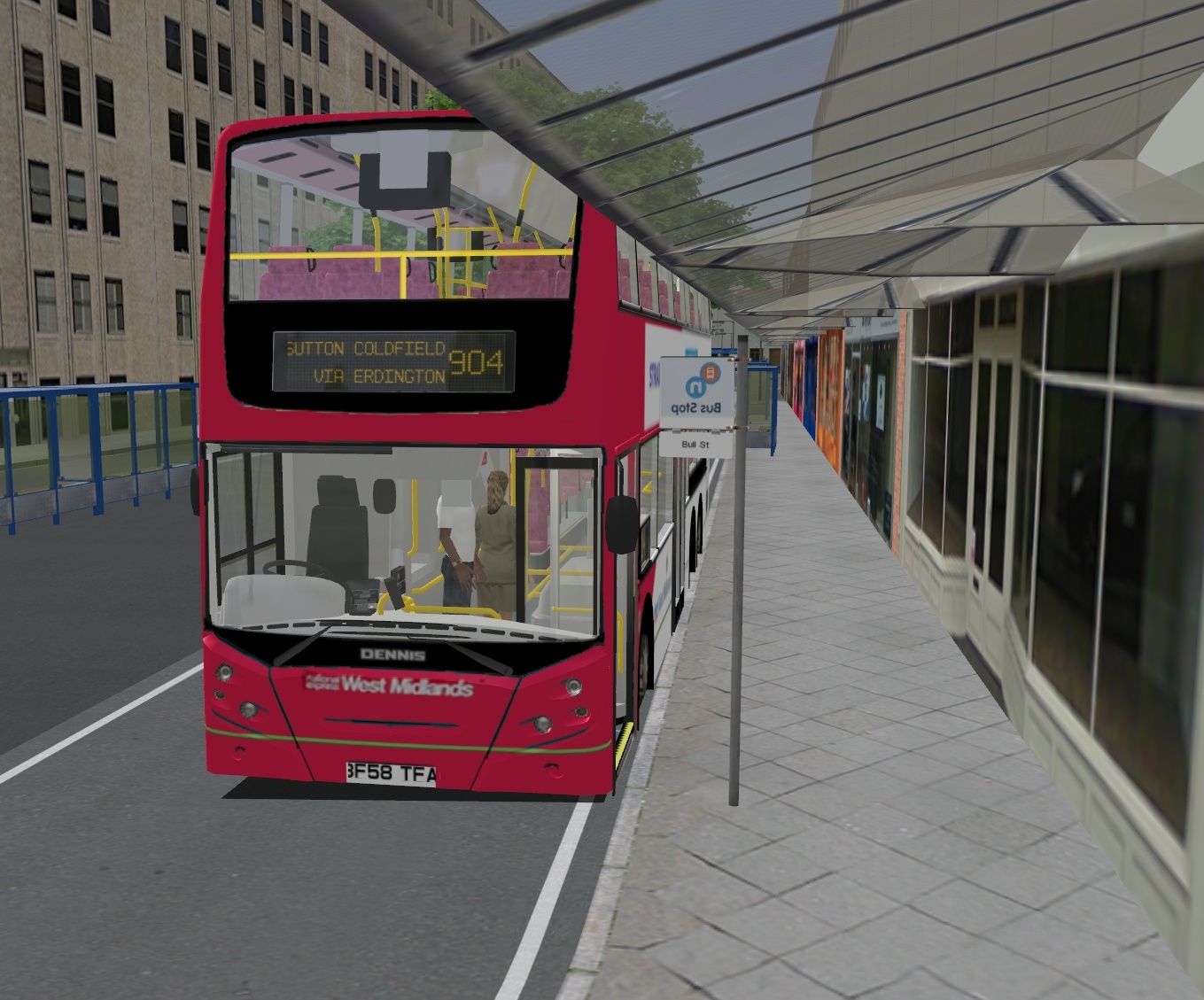 The route will start in central Birmingham, On Bull St. You'll then drive around colmore circus, the police headquarters, the Birmingham post building, the law courts, Birmingham children's hospital and Aston university.
Then you'll drive the route along the Aston expressway (A38m). It's a pretty unique road as it has no central reservation and no hard shoulder for a long stretch. The speed limit is 50 mph. The "red lane" in the middle is used to aid congestion at peak times. In the morning rush hour it is open inbound to city and in the evening it opens outbound. However, buses are banned from using this lane. You'll drive under the world famous spaghetti junction where the speed limit is reduced to 30mph.
Driving through Gravelly Hill and into Erdington. The well known route 11, Europe's longest bus route drives "the outer circle" of the city and stops here. It runs as AI traffic at 1 of its stops.
From then its pretty much a straight road, passing through Wylde green and arriving in Sutton after a scheduled 31 minute run. This is possible but it is pretty tight for time.
There is depot on Holland Road, Sutton Coldfield. In reality this depot closed in the 80's, but for Omsi purposes , it's reopened!
Layover times in Birmingham city centre are minimal. They are regulated pretty hard so you won't get longer than 4 minutes idle at the Bull St Terminus. If you find you are running early, you should wait at Aston University stop 1 to make up your time.
You probably won't run early though. It's a 31 minute peak and 28 minute off peak run and you will need to put your foot down to stick to these times.
__________________________
Downloads needed:
This map uses the Dennis Enviro 500 addon bus by Winsome. You need this bus installed. This is used by the AI and is also the bus you should user as your user bus. Optionally, you can use the Dennis Dragon addon bus, for which rollblinds have been provided.
Scenery required:
Addon GCW http://www.gcmods.de...trassenobjekte/
Nemolus Objeckte http://forum.aerosof...-traffic-signs/
Tony A Objects by Tony A
Canterbury Basic by Freeman
Addon simple streets - http://www.omnibussi...d&threadID=7811
Please make sure you add all the objects I've included in the scenery objects folder. With it being a left hand drive map, some splines and crossings have had new files added (the originals remain unchanged) and it's important these are in the correct place for the map to work.
INSTALLATION:
Installation is manual. Move all files into the OMSI 'Root' folder, and click 'yes' to merge and/or overwrite where prompted.
---
What's New in Version
1.6
Released
1.6 - Further "Invisible Collisions" fixed. 03d error fixed. Numerous other fixes.
1.5 - "Invisible Collisions" fixed.
1.4 - "Invisible AI" buses fixed.
1.3 - Enviro 500 file structure corrected, now noting the mis-spelling ("Eniro 500") in the original folder.
1.2 - Two missing Splines added.
1.1 - File structure repaired.