Submitter
Submitted: Dec 17 2011 09:32 AM
Last Updated: Aug 01 2013 06:11 AM
File Size: 770.54MB
Views: 69460
Downloads: 36,814
Approved by: DavidR.
Approved on: 02 August 2013 - 05:30 AM
Download DAYTONFORD COUNTY 7.0
38 Votes
13
Welcome to
Daytonford County 7.0
By xDanflyerX, and contributors
. 
Welcome to 
Daytonford County v7
, a fictional map set in 
Michigan
, USA. The city now has a 20-route strong network to transfer passengers from A to B. 
V7 brings a whole new area to the South of the map including a Highway to provide a direct link to Reymount. Contract tenders have been renewed this spring and M UNi (University of Michigan) decided it would be best for Daytran to run the U1 and U2 circulars and Q&M Transit to run the U3 circular. There are also the new park and ride routes which provide vital links between keys parts of the county. The new Dayton Rays Baseball Stadium is a winner with fans and with the new Park and Ride routes, there has never been a better time to become a baseball fan! Many other changes have happened but we'll let you find them! 
Please note: The 550 and 551 can run upto 5 minutes early and this depends on traffic, passengers are aware of this and don't worry if this does happen- just take a slower trip to your terminus. 
INSTALLATION: 1. 
Check your
OMSI\Maps
 folder and 
DELETE 
any other versions of Daytonford
2
. Check your 
OMSI\Vehicles
folder and 
DELETE
 any old versions of the 
HOF
 file (may be called "Daytonford.hof", or "Daytonford_County.hof"
3. 
Download the RAR file, and extract the '
omsi
' folder to your '
m-r-software
' folder 
4. 
You must choose "
Merge - yes
" and "
Overwrite
" when prompted! 
5. 
When you load OMSI, ensure you select '
load map without busses'
, the first time you play the map.   
You 
MUST
 have the following 
buses
 installed, BEFORE trying to use this map:-
IBIS CODES and a ROUTE PLAN are included in the "Daytonford Documents" folder, included.
CLICK the PIC below, to make it bigger.   The Route map is also included as a PDF within the package.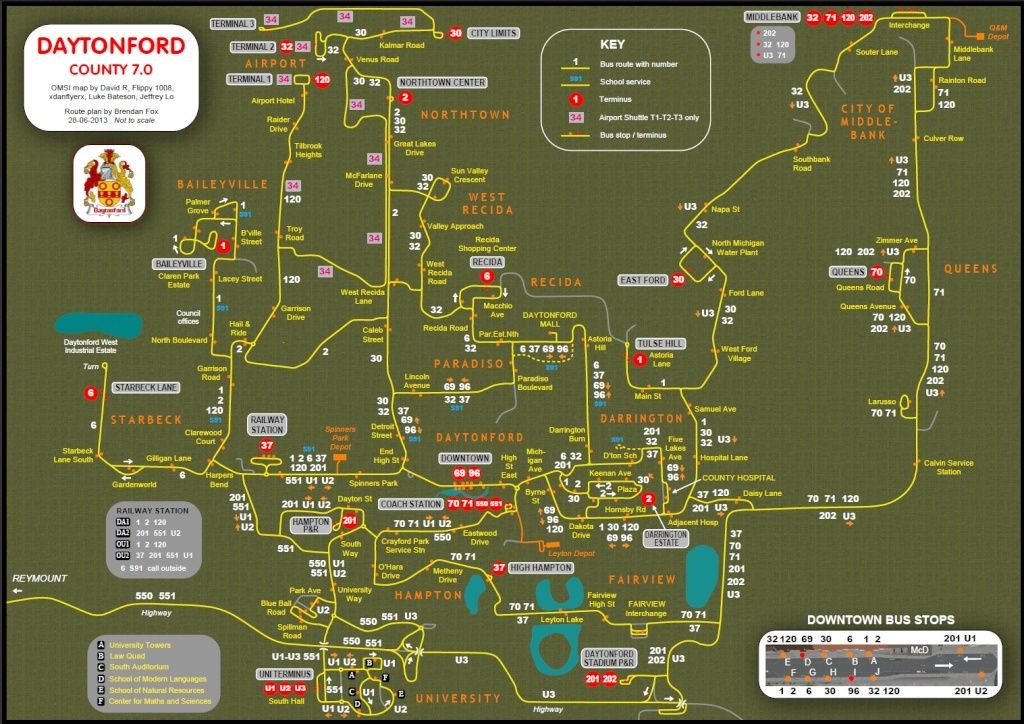 Thank you!
Many thanks goes to all those who have worked towards and assisted with any iteration of Daytonford -
Flippy1008, Mr J, Toastmeister, Brendan
,
Luke Bateson, xJordanx, Chris Rose, Freeman1001, Esqui, Ritcheaze, Mr Drive, Ashley Tayles, Leemers, Zulnex
 and others.  Without you where would we be today! 
A full credit sheet can be found in the Daytonford_Documents folder.  
Only objects distributed in xdanflyerx's buildings pack can be included in other map's download packages. If you want to include other objects, ask Dan's permission through PM or you can direct people to download this map to acquire the objects.
Have a safe and enjoyable trip to the County of Daytonford!  
Other files you may be interested in ..
Random Files
By MangoTango

Nov 18 2010 01:48 AM

By jankees

Jul 26 2013 10:31 PM

By jankees

Nov 23 2011 05:41 AM
19 user(s) are online (in the past 5 minutes)
0 members, 16 guests, 0 anonymous users
Google Mobile (1), Google (2)
DAYTONFORD COUNTY 7.0